Professor, Gender and Women's Studies, African American Studies & History University of Illinois at Chicago
Thursday, March 28, 2013 - 1:45am
Dept. of African American Studies, Gordon Parks Room
81 Wall St., Room 201
New Haven
Barbara Ransby is a historian, writer and longtime activist. She is a Professor of African American Studies, Gender and Women's Studies, and History at the University of Illinois at Chicago (UIC) where she directs both the campus-wide Social Justice Initiative and the Gender and Women's Studies Program. Her most recent book is Eslanda: The Large and Unconventional Life of Mrs. Paul Robeson (Yale UP 2013). Prof. Ransby is author of the highly acclaimed biography, Ella Baker and the Black Freedom Movement: A Radical Democratic Vision. The book received eight national awards and recognitions including: Lillian Smith Book Award, Joan Kelly Memorial Prize, American Historical Association; Letitia Woods Brown Memorial Prize, Association of Black Women Historians. In terms of her activism, Ransby was an initiator of the African American Women in Defense of Ourselves campaign in 1991, a co-convener of The Black Radical Congress in 1998, and a founder of Ella's Daughters, a network of women working in Ella Baker's tradition.
She has published and lectured widely at conferences, community forums and on over 50 college campuses. Her articles have appeared in popular as well as scholarly venues, and she serves on the editorial boards of The Black Commentator, (an online journal); the London-based journal, Race and Class; the Justice, Power and Politics Series at University of North Carolina Press; and the Scholar's Advisory Committee of Ms. magazine. In the summer of 2012 she became the second Editor in Chief of SOULS, a critical journal of Black Politics, Culture and Society, published quarterly.
Professor Ransby received a BA in History from Columbia University and an MA and PhD in History from the University of Michigan.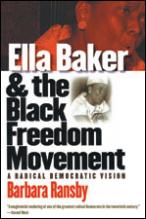 Sponsored by the Department of African American Studies