Claudia Rankine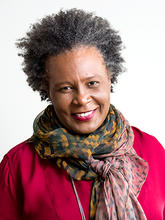 Frederick Iseman Professor of Poetry
Rm 304 -- 81 Wall St., New Haven, CT 06511-6606
______________________
Claudia Rankine is the Frederick Iseman Professor of Poetry at Yale University in the departments of African American Studies and English. She is author of five collections of poetry including Citizen: An American Lyric and Don't Let Me Be Lonely; two plays including Provenance of Beauty: A South Bronx Travelogue; numerous video collaborations, and is the editor of several anthologies including The Racial Imaginary: Writers on Race in the Life of the Mind.
Rankine won a distinguished Guggenheim Fellowship in 2017; she was awarded the prestigious MacArthur Fellowship "genius" award in 2016.
For her book  Citizen: An American Lyric, Rankine won both the PEN Open Book Award and the PEN Literary Award, the NAACP Award, and the National Book Critics Circle Award for Poetry (Citizen was the first book ever to be named a finalist in both the poetry and criticism categories); and was a finalist for the National Book Award. Citizen also holds the distinction of being the only poetry book to be a New York Times bestseller in the nonfiction category. Among her numerous awards and honors, Rankine is the recipient of the Poets & Writers' Jackson Poetry Prize and fellowships from the Lannan Foundation and the National Endowment of the Arts. 
(Adapted from claudiarankine.com)