Philip V. McHarris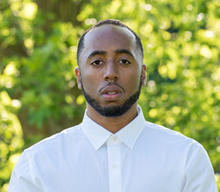 Education:
B.A., Sociology, Boston College
_____________________
Philip V. McHarris is a joint PhD candidate in Sociology and African American Studies at Yale University. His research focuses on race, punishment, and policing, drawing on qualitative and quantitative methods. His dissertation explores the strategies that residents of a high-rise housing project in Brooklyn, NY employ to foster safety and disrupt police violence. Philip is a recipient of the Ford Foundation Predoctoral Fellowship and the NSF Graduate Research Fellowship. He holds a B.A. in sociology from Boston College.
Publications
Vargas, Robert and Philip McHarris. 2017. "Race and State in City Police Spending Growth: 1980 to 2010." Sociology of Race and Ethnicity 3(1):96–112. 
Web Site
http://philipvmcharris.com/
Research Interests:
Race and Ethnicity; Urban Sociology; Sociology of Punishment; Inequality; Mixed-Methods