2018 Boone Prize Recipients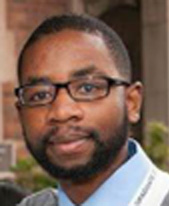 Wendell Adjetey GRD '18              Tina Post GRD '18
This year, the Departments of African American Studies and History of Art  jointly awarded the 2018 Sylvia Ardyn Boone Prize to two graduate students, Wendell Adjetey and Tina Post. 
Wendell Adjetey's winning dissertation , "From the North Star to the Black Star:  African North Americans and the Search for a Land of Promise, 1919-1984,"  reveals the "counter-subversion tactics that the Canadian and U.S. security and intelligence apparatus deployed to undermine black citizenship."  Tina Post's  outstanding dissertation,  "Deadpan Aesthetics in Black Expressive Culture,"  examines performances of expressionlessness, inscrutability, and affective withholding in African American arts and culture."
___________________________________________________
About the Sylvia Ardyn Boone Prize
The Sylvia Ardyn Boone Prize is awarded for the best written work by a Yale student on African or African-American art.  The prize is jointly administered by the History of Art and African American Studies Departments.  Students are nominated for the prize  by faculty members and advisors.
The prize is given in memory of Sylvia Ardyn Boone,  who was a noted scholar of African and women"s art and the first African-American woman  granted tenure at Yale. 
The Boone prize  was established by Vera Wells, ('71),  to honor the life and work of her close friend.
Photo of Sylvia Ardyn Boone: Yale Bulletin and Calendar
.   .   .   .   .   .   .   .   .   .   .   .   .   .   .   .   .   .   .   .   .   .   .   .   .   .   .   .   .    
Learn more about Art Historian Sylvia Ardyn Boone 

 On February 20, 2017, the President's Women of Yale Forum featured the program, " 'The Life and Work of Sylvia Ardyn Boone': A Conversation between Peter Salovey and Vera Wells."  Wells ('71) was among the first class of women admitted to Yale College. She is a former student of Boone's and became a friend and mentee. After Boone passed away, Wells served as literary executor of Boone's estate. 
Watch the full program   (1:11:24)
Additional sources on Sylvia Ardyn Boone:
.   .   .   .   .   .   .   .   .   .   .   .   .   .   .   .   .   .   .   .   .   .   .   .   .   .   .   .   .   .   
Books by Sylvia Ardyn Boone
West African Travels     Radiance from the Waters:                                                              Ideals of Feminine Beauty in
                                                  Mende Art