African American Studies faculty embrace our newly minted PhD recipients
The African American Studies Department proudly celebrates our talented graduates and degree recipients for their milestone achievements. (See more photos)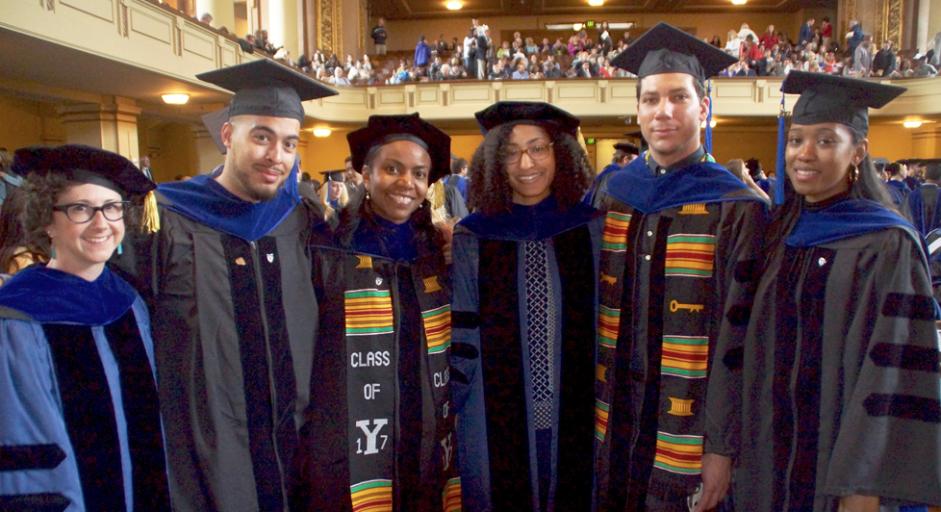 (Pictured: Heather Vermeulen, Ryan Jobson, Jalylah Burrell, Melanie Chambliss, Khalil Johnson, Kaneesha Parsard.
The Class of 2017, among the most talented, disciplined and creative group of scholars to matriculate in the African American Studies program, includes seven PhD recipients, six recipients of the baccalaureate degree, and nine recipients of the Masters of Philosophy or Science.  
_______________________________
AWARDS & HONORS
We also warmly congratulate several of our graduates whose outstanding work has been recognized by their academic departments with special awards: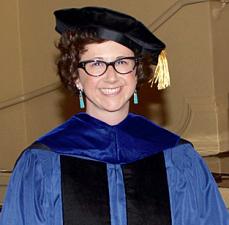 Heather Vermeulen, PhD recipient, won the Sylvia Ardyn Boone Prize for her dissertation, "Archival Ecologies,  Queer Kin-aesthetics: Thomas Thistlewood and the Plantation Grotesque."
Lauren Chambers, graduating senior, has been awarded the William Pickens Prize for her senior thesis, "A Different Kind of Dark Energy: Placing Race and Gender in Physics"
________________________________
GRADUATES AND DEGREE RECIPIENTS
The names of African American Studies graduates and master degree recipients are listed below.
Ph.D. Recipients in African American Studies (and a combined program)
Jalylah Burrell (American Studies) :  Jalylah Burrell has been appointed the Ida B. Wells Postdoctoral Fellow African and Black Diaspora Studies at DePaul University,
______________________
Angela Onwuachi-Willig (Sociology):  In May 2018, Angela Onwuachi-Willig was named the dean of Boston University Law School.  She joined the faculty at the University of California where she became the Chancellor's Professor of Law at Berkeley Law in 2016, one year before completing the PhD in Sociology and African American Studies at Yale University. Previously, Angela taught at the University of Iowa College of Law, where she was the Charles and Marion Kierscht Professor and at the University of California, Davis, King Hall, where she was an Assistant Professor of Law. (Updated, May 25, 2018)
______________________
Ryan Jobson (Anthropology): For the 2017-2019 academic years, Ryan Jobson will hold the title of Provost's Postdoctoral Fellow in the Department of Anthropology at the University of Chicago.
______________________
Kaneesha Parsard (American Studies): Kaneesha Parsard has accepted an appointment as a Postdoctoral Fellow in Critical Race Studies, Northwestern University, through the Mellon Kaplan Postdoctoral HERE Program of the Alice Kaplan Institute for the Humanities.
______________________
Heather Vermeulen (American Studies): In fall 2017, Heather Vermeulen will begin her appointment as lecturer in the African American Studies Department at Yale. 
______________________
 Khalil Johnson (American Studies):  In the 2016-17 academic term, Kahlil Johnson began his first year of teaching as Assistant Professor of African American Studies at Wesleyan University.  Professor Johnson's current manuscript project, Schooled: The Education of Black and Indigenous People in the United States and Abroad, 1730-1980, historicizes the Post-War migration of hundreds of African American educators to Indian Country—the result is a dramatic and transnational reinterpretation of American education and its consequences for colonized peoples across the globe.
______________________
 Melanie Chambliss (American Studies) In 2016, Melanie Chambliss began a two-year postdoctoral fellowship in the Department of African American Studies at Northwestern University..
_____________________________________
Graduating Seniors in African American Studies
Alexandra Barlowe 
Imani Doyle
Sinclair Williams      
Julia Schlesinger
Lauren Chambers (Double-major with Astrophysics )  
Rianna Johnson-Levy (Double-major with Women's Gender & Sexuality Studies )
Recipients of the Master of Arts (MA) and Master of Philosophy (MPHIL) degrees
Brittany Levingston, MA, English 
Rachel Perez, American Studies
Phoenix Alexander,  MA & MPHIL, English (Fall 2016)
Anusha Alles, MA & MPHIL, English (Fall 2016]
Lucy Caplan, MPHIL, American Studies (Fall 2016)
Philip McHarris, MA, Sociology (Fall 2016]
Danya Pilgrim, MA & MPHIL, American Studies (Fall 2016)
Aaron Sweeney, MA & MPHIL, American Studies (Fall 2016)
Keahnan Washington,  MPHIL, Anthropology (Fall 2016)
 
(Updated: June 22, 2017)