Eleanor "Ellie" Pritchett, YC '19, has made a contribution to the of field of book design–and a particularly significant contribution to the study of Harlem Renaissance art and print production–with a bibliography that she compiled and annotated of Aaron Douglas's book art.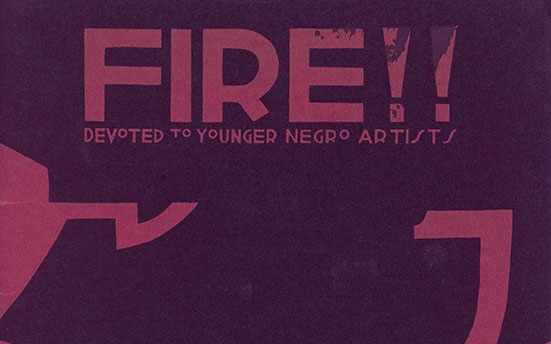 "[Ellie's] listing comprises a nearly complete collection of the book art of Aaron Douglas, including more than a dozen first edition books associated with the Harlem Renaissance, complete with their Douglas-designed jackets…," writes Melissa Barton, curator of Drama and Prose in the Yale Collection of American Literature at Beinecke Library. Barton worked with Pritchett and wrote the introduction to Pritchett's bibliography.Ellie's  compilation is accessible on 
Beinecke Library's web site. 
Ellie shared in writing her reflections on researching Aaron Douglas' book art and the production of her bibliography:
"I was introduced to Aaron Douglas in my sophomore year in Professor Stepto's class while reading God's Trombones, and thought his drawings for the book were just beautiful. I was already really interested in what goes into making a book–writing, editing, design, production, etc.–and over the course of my junior year it became increasingly obvious that Douglas, one of the major artists of the Harlem Renaissance and certainly the Black artists whose works were most visible at the time, would be a fascinating look into the mechanics behind publishing in such an important and interesting era for Black literature.
"The first surprise I encountered in this project was how colorful all of the jackets listed in the bibliography are! I had no idea that people were reading such brightly colored books in the 1920s.
"The biggest obstacle of this project is that the jackets aren't usually credited to the artist, so it takes a little bit of sleuthing to make sure, and it took me a lot of knowledge about Douglas's style to be able to say what was or was not his work.
"It's really great to see a project that I've spent more than a year on come to fruition in such a satisfying way! I'm thankful to Dr. Barton for the opportunity to help bring people's awareness to this artist who influenced the Harlem Renaissance, and so many people's experience of it, in such a significant way."
After graduation I'm hoping to find a career, at least for a few years, in publishing or in libraries. What's most important to me is to be able to work with books in a close capacity!