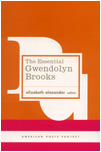 "If you wanted a poem," wrote Gwendolyn Brooks, "you only had to look out of a
window. There was material always, walking or running, fighting or screaming or
singing." From the life of Chicago's South Side she made a forceful and passionate poetry that fused Modernist aesthetics with African-American cultural tradition, a poetry that registered the life of the streets and the upheavals of the 20th century. Starting with A Street in Bronzeville (1945), her epoch-making debut volume, The Essential Gwendolyn Brooks traces the full arc of her career in all its ambitious scope and unexpected stylistic shifts.
"Her formal range," writes editor Elizabeth Alexander, "is most impressive, as she experiments with sonnets, ballads, spirituals, blues, full and off-rhymes. She is nothing short of a technical virtuoso." That technical virtuosity was matched by a restless curiosity about the life around her in all its explosive variety. By turns compassionate, angry, satiric, and psychologically penetrating, Gwendolyn Brooks's poetry retains its power to move and surprise.
Source: www.americanpoetsproject.loa.org
View faculty member's biographical page: Elizabeth Alexander