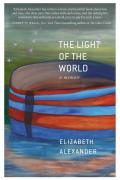 In THE LIGHT OF THE WORLD, Elizabeth Alexander finds herself at an existential crossroads after the sudden death of her husband, who was just 50. Reflecting with gratitude on the exquisite beauty of her married life that was, grappling with the subsequent void, and feeling a re-energized devotion to her two teenage sons, Alexander channels her poetic sensibilities into a rich, lucid prose that describes a very personal and yet universal quest for meaning, understanding, and acceptance. She examines the journey we take in life through the lens of her own emotional and intellectual evolution, taking stock of herself at the mid-century mark.
This exquisite memoir is for anyone who has loved and lost. It's about being strong when you want to collapse, about being grateful when someone has been stolen from you. It's Elizabeth Alexander's story but it is all of our stories because it is about discovering what matters. A deeply resonant memoir for anyone who has loved and lost, from acclaimed poet and Pulitzer Prize finalist Elizabeth Alexander. 
Elizabeth Alexander is the Frederick Iseman Professor of Poetry; Professor of African American Studies and American Studies at Yale.