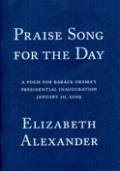 Elizabeth Alexander crafted the poem for the occasion, drawing inspiration from
poets such as Gwendolyn Brooks, Robert Hayden, and Walt Whitman. Alexander is one of our nation's most eloquent poets, and she spoke at the most closely watched inauguration in U.S. history. Alexander is the fourth poet in United States history to read at a presidential inauguration. Previous inaugural poets were Robert Frost at the inauguration of John F. Kennedy, and Maya Angelou and Miller Williams at the inaugurations of William Jefferson Clinton.
Graywolf is pleased to publish a commemorative chapbook edition of Praise Song
for the Day: A Poem for Barack Obama's Presidential Inauguration. This slender,
elegant volume with French flaps on heavy, uncoated stock, with a silver foil
stamp. The chapbook will serve as a cherished reminder of this historic presidential event.
Graywolf Press | January 2009 | ISBN: 978-1-55597-545-6 | Pbk., 28 pages
View faculty member's biographical page: Elizabeth Alexander