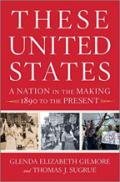 Acclaimed historians Glenda Elizabeth Gilmore and Thomas J. Sugrue forge the panoramic and the personal into an authoritative narrative. They give us insightful accounts of the century's large events—war, prosperity, and depression, astute leadership and arrogant power, the rise and decline of a broad middle class. And they ground the history in the stories of everyday Americans such as William Hushka, a Lithuanian immigrant who makes and loses an American life; Stan Igawa, a Japanese-American who never doubts his citizenship despite internment during World War II; and Betty Dukes, a Wal-Mart cashier who takes on America's largest corporation over wage discrimination.
From W. W. Norton & Company web site.
View Glenda Gilmore's faculty page on the Department of African American Studies web site.