Candace Borders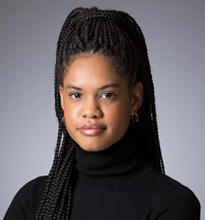 Education:
B.A. American Culture Studies, Cum Laude, Washington University
______
Candace Borders graduated from Washington University in St. Louis in 
2017 with a B.A. in American Culture Studies, Cum Laude. Her research 
questions center on how African-American women experience and theorize 
their lives at the nexus of race, gender, sexuality, and public 
assistance. More specifically, she is interested in Black women's 
relationship to public housing. As a Mellon Mays Undergraduate Fellow, 
she wrote an honors thesis, "'You Knew You Were Equal': Black Women 
Constructing Place in Pruitt-Igoe," based on interviews with Black 
women who grew up in St. Louis, Missouri's Pruitt-Igoe housing 
project. Prior to starting her graduate studies, Candace was an 
Editorial Assistant for Black Perspectives, the blog of the African 
American Intellectual History Society and worked as the PNC Arts Alive 
Fellow at the Contemporary Art Museum St. Louis. She is pursuing a 
joint Ph.D. in American Studies and African American Studies.
Research Interests:
Black Studies, Black Feminist Theory, 20th-century African American women's history, oral history, public humanities