Erica Edwards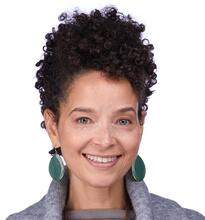 Director of Graduate Studies in African American Studies, Professor of English & African American Studies
Ph.D., Literature, Duke University B.A., English and Spanish, Spelman College
Professor Edwards teaches courses in American literature, Black studies, and feminist theory. Her  primary research is in African American literature, which she approaches with a deep interest in the intersection of literature, politics, social movements, and popular culture and the ways that Black feminism affords us particularly generative insights about connections among these formations.  
Professor Edwards's most recent book, The Other Side of Terror: Black Women and the Culture of U.S. Empire (New York University Press, 2021; finalist for the Association of Publishers Prose Award and for the Association for the Study of African American Life and History Book Prize), offers an account of contemporary Black women's culture and its entanglements with US imperialism. My first book, Charisma and the Fictions of Black Leadership (University of Minnesota Press; winner of the Modern Language Association's William Sanders Scarborough Prize), was published in 2012. She is the co-editor, along with Roderick Ferguson and Jeffrey Ogbar, of Keywords for African American Studies (NYU Press, 2018).
Professor Edwards has written about African American literature, politics, and gender critique in scholarly journals such as differences, Callaloo, American Quarterly, American Literary History, and Black Camera and in public-facing venues like The Los Angeles Review of Books and The Washington Post. 
Before coming to Yale, Professor Edwards taught at Rutgers University and, before that, at the University of California, Riverside, where she founded the Lindon Barrett Scholars Mentoring Program at and co-founded, with Grace Kyungwon Hong, the University of California Consortium for Black Studies in California.