Nala Williams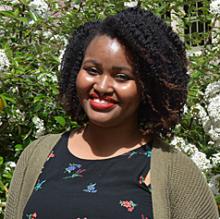 Education:
B.A., Anthropology; B.A., Near Eastern Languages & Civilizations, University of Washington
__________
Nala is a PhD student in the joint Sociocultural Anthropology and 
African-American Studies program. She graduated from the University 
of Washington Phi Beta Kappa and cum laude with a B.A. in 
Anthropology and B.A. in Near Eastern Languages and Civilizations 
with a specialization in Arabic. She is broadly interested in Black 
feminist geographies, Black studies, history of archaeology, 
critical race theory, and  autoethnography. Her research explores 
Black women's experiences of archeology in the academe. 
Research Interests:
Black feminist theory, Black feminist geographies, Black studies, critical race theory, alter/native anthropology