Shanna-Dolores Jean-Baptiste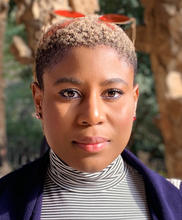 Education:
M.A., Yale University; B.A., City College of New York, CUNY
_____________
Shanna Jean-Baptiste is a joint Ph.D. candidate in French Studies and 
African American Studies. Shanna grew up in Jacmel, Haiti, where she 
earned both the Haitian and the French Baccalauréats.  In 2014, she 
received a Bachelor of Arts, magna cum laude, in French and History 
from the City College of New York, CUNY.
Her dissertation, "Unbelonging: National Identity and Foreign Nationals 
in the Long Haitian Nineteenth Century," explores how the fiction of 
Haitian writers such as Fernand Hibbert, Stephen Alexis, Léon Laleau, 
and Annie Desroy reveals Haitian national belonging to be contingent on 
processes of "unbelonging," which often involve the literal silencing 
of certain foreign groups.
Research Interests:
Haitian Studies, Sub-Saharan francophone literature, Francophone Caribbean literature, Anti-imperialist discontent in literature, Digital Humanities