Thuto Thipe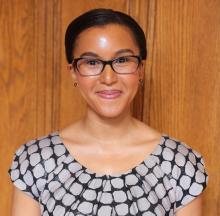 Education:
B.A., Macalester College; MSocSci., University of Cape Town
Thuto Thipe is a PhD candidate in the Department of History and the Department of African American Studies. Her dissertation focuses on black freehold areas in the Johannesburg area from their founding in the early 1900s through to the 1970s when forced removals had largely destroyed these areas and displaced their residents. Thipe traces these freehold areas' founding and growth, the dynamic social, political, and economic landscapes that they made possible, and the devastating processes of forced removals and in some cases demolition of entire areas. 
Thipe's dissertation builds on nearly three years of work as a researcher at the University of Cape Town's law faculty. Here Thipe worked in archives and conducted oral history interviews with black people in rural areas across South Africa who experienced insecure land tenure because of historical racially discriminatory laws. This historical perspective informed ongoing policy and legislative debates by showing how government previously stripped different groups of people of their land rights, the implications of this past discrimination, and the extent to which current and proposed law and policy worked to redress past injustices. Thipe was part of a research team whose work contributed to South African court cases, including at the Constitutional Court level, to debates in South Africa's Parliament, and to policy development. She has presented research to Parliament and provided input on bills at national and provincial level.
Thipe has taught in History, Gender Studies, and African American Studies. She has received several local and international grants and awards and was profiled in the Mail and Guardian's "Women Changing South Africa 2018."
Selected Publications