The African American Studies Department congratulates its talented graduates of the Class of 2018! Members of this year's graduating class consists of four PhD recipients, three Masters degree recipients and thirteen recipients of the Bachelor's degree.
Three graduating students in African American Studies won prizes  
sponsored by the Department.  
Yuni (Yoon) Chang, an African American Studies major and  Class of  
2018 Mellon-Bouchet Fellow, won the
William Pickens Prize
for her  
senior essay, "Seat of Empire: Multiracial Student Organizing at  
Yale Against War & Militarism."
PhD recipients Tina Post (American Studies) and Wendell Adjetey (History) were joint recipients of the Sylvia Ardyn Boone Prize administered by the History of Art and African American Studies  departments in recognition of excellence in essay writing. 
In addition to department prizes, African American Studies  graduates received distinguished awards from numerous sponsors across the  University. 
Ivetty Estepan
, a double major in African American Studies/Ethnicity, Race and Migration, was awarded the Yale College
 Nakanishi Prize
, given to a student who maintains high academic achievement while providing "exemplary leadership in enhancing race and/or ethnic relations at Yale College." 
Wendell Adjetey
, PhD (History) garnered  the History Department's 
Edwin W. Small Prize
 for outstanding work in the field of American history.
Several African American Studies graduates  were awarded honors sponsored by the Afro-American Cultural Center during its Black Graduation cultural ceremony.
Wendell Adjetey
,
PhD
(History), received  the 
Willard "Woody" Brittain, Jr. '70 Leadership Award
 .
Elisia Ceballo-Countryman '18 
won the 
John Blassingame GRD '71 Award
which recognizes a student for outstanding research in African American history and culture as exemplified in her senior essay, "Inside Slavery's Shadow Market: Enslaved People as Economic Actors." 
The award was established in 2004 by Vera F. Wells '71  to honor historian John Blassingame, a former chair of African American Studies Department at Yale, for his pioneering contributions to the study of American slavery. 
Liana Ambrose-Murray  '18
recieved the
Leadership Award for Community Arts & Service
given for her contributions to improving the artistic community at Yale and in New Haven. 
 Ivetty Estepan received the
Janifer Lynn Lighten '83 Leadership Award
, named to honor Lighten, a founding national president of the Yale Black Alumni Association, a board member of the Yale Westchester Alumni Association, and a major donor to Yale initiatives, including support to programs at and infrastructure improvements to the Afro-American Cultural Center. 
Erika Hairston '18 received the Outstanding Student Leader Award  for demonstrating the values of scholarship, leadership, service and advocacy.  Alexis Williams '18  was presented with the Caroline Jackson Smith '74 Leadership Award, which honor Smith, the third full time director of the Afro-American Cultural Center.
2018 GRADUATES AND DEGREE RECIPIENTS
Yale College
Baccalaureate Recipients in African American Studies
Liana Ambrose-Murray
Elisia

Ceballo-Countryman
Yoon Hee Chang (double major with Ethnicity, Race and Migration)
Sabine Decatur
Ivetty Estepan (double major with Ethnicity, Race and Migration)
Hannah Greene
Erika Hairston (double major with Computer Science)
Angela Henderson
Maya Jenkins
Zachary (Zack) Sekoff
Julianna Simms (doouble major with Political Science)
Elizabeth Spenst
Alexis Williams
Graduate School of Arts and Sciences
PhD Recipients in African American Studies (with a combined program)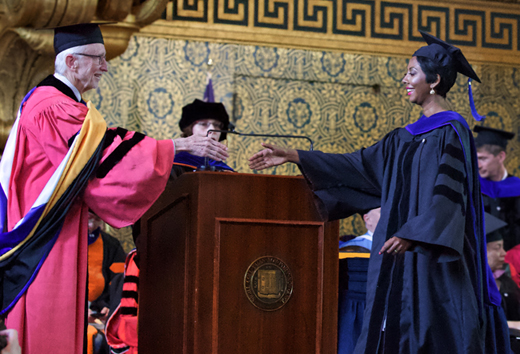 Usha Rungoo , French/African American Studies, receives PhD degree 
Wendell Adjetey (combined with History) has been appointed to a postdoctoral fellow at Harvard University.
Danielle Bainbridge
(combined with American Studies), in 2018-2019, will begin as a  Postdoctoral Fellow in African American Studies, Northwestern University; 2019, Assistant Professor  of Theater (tenure track), Northwestern University 
Melissa Castillo-Garsow (combined with American Studies)   
Tina Post (combined with American Studies),  for 2018-2020, will be a  Postdoctoral  Fellow, English Department, University of Chicago; in 2020,  an appointment as Assoistant Professor of English (tenure track), University of Chicago 
Delaina Price (combined with History) 
Usha Rungoo (combined with French) 
Recipients of the Master of Arts (MA) and Master of Philosophy (MPHIL) Degrees
Anna Duensing (combined with History) MA
Shanna-Dolores Jean-Baptiste (combined with French)  MPHIL
Thuto Thipe
(combined with History)
MA & MPHIL
Updated Wednesday, May 30, 2018