Pictured: PhD recipients, Phoenix Alexander, Lauren Meyer, Dana Pilgrim,
Claire Schwartz, Demar Lewis IV (MPHIL degree recipient) | Stokes Photography
Congratulations, Class of 2019! Members of this year's graduating class include four PhD recipients, three Masters degree recipients and seven recipients of the Bachelor's degree.
One graduating student won a prize sponsored by the African American Studies Department.  
Eleanor Pritchett won the distinguished Williams Pickens Prize for her senior essay,  "Transcendentally Material": Aaron Douglas and the Visuals of Publishing in the Harlem Renaissance."
PhD recipient Claire Schwartz 
 (American Studies) was awarded the
 Sylvia Ardyn Boone Prize
 administered by the History of Art and African American Studies  departments in recognition of excellence in essay writing for her dissertation, 
"
A Sidelong Glance: Art, Archives, and Visions of Blackness in the Postmodern City."
In addition to department prizes, African American Studies g
raduating senior Eleanor Pritchett was awarded the 
Professor John Blassingame '71 Ph.D. Award for Outstanding Research in African American History & Culture 
sponsored by the Afro-American Cultural Center. 
_________________________
2019 GRADUATES AND DEGREE RECIPIENTS
Yale College
Baccalaureate Recipients in African American Studies
M
arkus Reneau – Distinction in the major
Alexis Payne – Distinction in the major; Double-major/English
Eleanor Pritchett – Distinction in the major
Liam Riley
– Distinction in the major, Double major/Women, Gender and Sexuality Studies
Nia Jones
– Double-major/Political Science
Hannah Billingsley
Naiya Speight-Leggett, Double-major/Political Science
Yale Graduate School of Arts and Sciences
PhD, Masters of Arts and Masters of Philosophy Degrees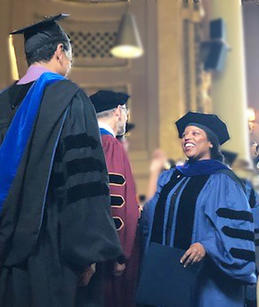 Graduates Lauren Meyer and Danya Pilgrim receive PhD degrees
PhD Degree Recipients in African American Studies (with a combined program)
Phoenix Alexander
 (combined with Engl;ish) has been appointed  as the Science Fiction Collections Librarian in the Special Collections and Archives of the University of Liverpool Library 
Dissertation: "Voices with Vision: Writing Black, Feminist Futures in 20th Century African America"
Lauren Meyer
 (combined with American Studies) in 2020, will begin an appointment as Lecturer in Africn American Studies at Yale University.  
Dissertation: "Defending Black Womanhood: African American Women Lawyers and the Emergence of a Black Feminist Juris Prudence"
Danya Pilgrim (combined with American Studies)   
Dissertation: "Gastronomic Alchemy: How Black Philadelphia Caterers Transformed Taste into Capital, 1790-1925"
Claire Schwartz (combined with American Studies)  
Dissertation: "A Sidelong Glance: Art, Archives, and Visions of Blackness in the Postmodern City"
Recipients of the Master of Arts (MA) and Master of Philosophy (MPHIL) Degrees
Stephane Andrade (combined with Sociology) MPHIL
Demar Lewis IV (combined with Sociology)  MPHIL
Cera Smith  (combined with English) MA 
Updated May 23, 2019